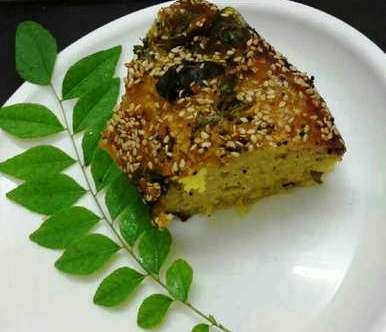 Handvo
Jai Shri Krushna,
Handvo is lentil , rice based spicy pancake. A complete meal loaded with the goodness of Veggies. Ideal for breakfast or evening light meal. Let us make this favourite of Guru and Govind at home. It can be prepared from ready instant mix or by soaking lentils and rice and crushing it to form batter.
Ingredients
1.Cup Instant Mix.
1.Cup Grated Gourd / Lauki ,Carrot
1.Cup Sour Curds.
Some chopped Coriender leaves.
Curry leaves
2tbp.Oil
1tsp. Mustard seeds /Rai
1tsp.Seasam Seeds /Til
Preparation Method
Mix all the ingredients – instant mix, curds, grated veggies coriender leaves and mix well.
Heat a non-stick pan , pour oil add mustard seeds, and then til seeds add curry leaves and then the batter .
Smoothly surface and cover .Cook for 5 mins.
Turn the side with the help of a full plate and cook the other side too.
Switch off the heat – your crisp Handvo is ready to be offered to Shri Thakurji with a Tulsi leaf on top.